Online Trainings
Planning Smart Meals for Healthy Children
This FREE online training was created as an interactive, engaging, and fun professional development opportunity for CACFP sponsors and providers. The course offers six modules to enhance knowledge of planning healthy meals and snacks that meet CACFP guidelines and best practices. Each module counts as one hour of CACFP training.
→ Simply click HERE to begin - no login required
Online Course Technology Requirements:
A computer (PC or Mac) with internet access and speakers.
An up-to-date internet browser.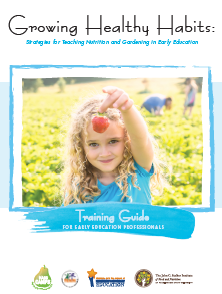 Growing Healthy Habits Training Guide
Strategies for Teaching Nutrition and Gardening in Early Education
This manual was created as a resource for CACFP Sponsors to provide training to their providers. It's divided into two modules containing four lessons each, including activity sheets, handouts, and quizzes. The active, hands-on design of these lessons ensures that participants will feel confident incorporating these concepts into their day. The overall goals of the manual are to provide participants with:
Behavioral strategies to improve the nutrition of young children in their early education programs.
Techniques to incorporate gardens, agriculture education, and local food into early education programs.
The manual was used in five regional face-to-face trainings in which CACFP sponsors learned how to best use the manual to train providers.
Here's what Sponsors are saying about Growing Healthy Habits Training Guide:
"Thank you! This will make a great resource for my organization."
"So glad to have these tools to share with my staff!"
"Great book - easy lesson plans to make eating healthy fun (and educational), thank you."
"Motivated me to plan staff training next staff meeting."
Meal Pattern Training Materials: Posters and Print-Outs
The materials below were created as supplementary visual elements for the culinary demonstration exhibition that took place at two of the 'Child Care Meal Pattern Standards' training days in early 2017. Materials were designed to highlight CACFP standards and best practices. They can be used as visual aids when teaching early education professionals about the changes to the CACFP meal pattern. Topics include tofu, healthy cooking methods, meat/meat alternates, and whole grains.
Click on a poster below to download materials.